Open Trailers & Utility Trailers
Utility Trailers for Sale
When it comes to transporting "stuff", a utility trailer can be an invaluable tool. However, with so many options available on the market, it can be overwhelming to choose the right one for your needs.
What are Utility Trailers Used For?
Utility trailers are used for transporting various types of goods, equipment, or heavy loads. They are commonly used by individuals or businesses for purposes such as hauling furniture, appliances, building materials, landscaping supplies, motorcycles, ATVs, and other similar items. Utility trailers are versatile and can be attached to a vehicle, allowing for easy transportation of goods from one location to another.

Call Now Request Quote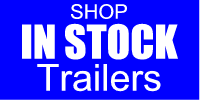 Picking the Right Utility Trailer
When it comes to selecting the ideal utility trailer that will perfectly cater to your specific needs and preferences, you must thoroughly contemplate a multitude of critical factors that can greatly impact your decision-making process.
Determine your needs
When considering the transportation of your items, it is crucial to carefully assess the specifics of each item and their associated dimensions. By doing so, you will not only gain a comprehensive understanding of the size and weight capacity required for your utility trailer but also ensure that your chosen trailer is perfectly tailored to accommodate your needs and effectively handle the transportation process.
Consider the ramp or gate
When determining your specific needs for effortless loading and unloading, it is essential to carefully consider whether a ramp or gate would be best suited for your purposes. Should your intent involve the transportation of substantial items such as heavy machinery or vehicles, it is highly recommended to opt for a ramp option. It is of utmost importance, in this regard, to ensure that the chosen ramp or gate is not only robust but also conveniently operable, guaranteeing a hassle-free experience.
Check the weight capacity
The Gross Vehicle Weight Rating (GVWR) is an essential factor to consider when selecting a utility trailer. The GVWR refers to the maximum weight that a trailer can safely carry, including its own weight and the weight of the cargo.
It is crucial to understand the importance of GVWR because exceeding the trailer's weight capacity can lead to safety hazards, such as reduced braking ability, unstable towing, and increased risk of accidents. Additionally, overloading a trailer can cause damage to the trailer's structure, tires, suspension, and other components.
To ensure the safe transportation of your belongings, it is recommended to choose a utility trailer with a GVWR that exceeds the total weight of the items you plan to transport. This will provide a sufficient safety margin and help prevent any potential issues during towing.
When evaluating different utility trailers for sale, be sure to check the GVWR specification provided by the manufacturer. Compare it with the weight of your cargo and select a trailer that can accommodate the load while staying within the recommended weight limits. By considering the GVWR, you can make an informed decision and ensure a safe and hassle-free towing experience.
Evaluate the construction
When you are in the market for a utility trailer, it would be highly beneficial if you prioritize finding one that possesses a sturdy and long-lasting construction. To accomplish this, it is essential to pay close attention to the material that the trailer is made of. Take into account the merits of both steel and aluminum, as they are widely recognized for their robust qualities. Additionally, it would be prudent to thoroughly inspect the trailer for any reinforcements that have been incorporated into its design, paying particular attention to those areas that are prone to heightened levels of stress due to the demands placed on them during regular usage.
Consider the trailer hitch
To ensure that the utility trailer is fully compatible with your vehicle's hitch system, it is crucial to thoroughly check the trailer's hitch size as well as its class to guarantee a seamless and secure fit. This step is of utmost importance in order to prevent any potential risks or mishaps while towing the trailer. By diligently examining the hitch size and class, you can ensure that both the trailer and your vehicle's hitch system are in perfect alignment, ultimately allowing for a smoother and safer towing experience. So, take the time to meticulously assess and verify these essential specifications before embarking on your towing journey.
By considering these factors, you can make an informed decision and choose the right utility trailer for your needs.
Some Options and Accessories to Consider when Buying a Utility Trailer
When buying a utility trailer, there are several options and accessories to consider. One important consideration is whether you need a ramp or gate for easy loading and unloading. You should also take into account the weight capacity and ease of use of the ramp or gate. These factors will ensure that you have a convenient and efficient experience when using your utility trailer.
Ramp or Gate
Determine if you need a ramp or gate for easy loading and unloading
Consider the weight capacity and ease of use of the ramp or gate
Storage Options
Assess if the trailer offers storage compartments or toolboxes
Consider the size and accessibility of the storage options
Towing Accessories
Evaluate if the trailer comes with towing accessories like spare tires and jacks
Consider the availability and cost of additional towing accessories
Buying Your Utility Trailer from Truck'n America
Truck'n America is a reputable utility trailer dealer that offers a wide selection of utility trailers for sale. There are several reasons why you should consider buying your utility trailer from Truck'n America:
1. Variety of Options: Truck'n America offers a diverse range of small utility trailers, allowing you to choose the one that best suits your needs. Whether you need a small trailer for personal use or a larger one for commercial purposes, they have options for every requirement.
2. Quality and Durability: When purchasing a utility trailer, it is important to invest in a high-quality and durable product. Truck'n America ensures that their trailers are built to withstand heavy loads and harsh conditions, providing you with a reliable and long-lasting solution.
3. Expert Advice: The staff at Truck'n America is knowledgeable and experienced in the trailer industry. They can provide you with expert advice and guidance to help you select the right utility trailer for your specific needs. Whether you have questions about weight capacity, hitch types, or additional features, they are there to assist you.
4. Towing Accessories: Truck'n America offers towing accessories like spare tires and jacks, which can be crucial in case of emergencies or unexpected situations on the road. By purchasing your utility trailer from them, you can ensure that you have all the necessary accessories to safely tow your trailer.
5. Customer Service: Truck'n America prides itself on providing excellent customer service. They are committed to ensuring customer satisfaction and will assist you throughout the entire buying process. If you have any concerns or issues, they will be there to address them promptly.
Overall, buying your utility trailer from Truck'n America offers you a reliable and convenient solution. With their wide selection, quality products, expert advice, and exceptional customer service, you can make a confident purchase that meets your towing needs.