Truck Accessories & Trailers in Purcellville, VA | Truck'n America
Truck'n America in Purcellville, VA is the ultimate destination for truck enthusiasts. If you're in search of high-quality truck accessories or trailers, look no further. At Truck'n America, we offer a vast selection of trailer accessories, truck bed covers, truck steps, truck caps, and tonneau covers. Our goal is to enhance your trucking experience and provide you with the best products available in the market. Additionally, we have a wide range of trailers for sale near you. Visit Truck'n America in Purcellville, VA today and explore our extensive collection of truck accessories and trailers.
Providing High Quality Truck Accessories in Purcellville, VA
To enhance both the functionality and look of your vehicle, it is crucial to have accessories for your pickup truck. These accessories offer a wide range of options for customizing and enhancing your pickup truck according to your preferences and needs. When choosing accessories for your pickup truck, it is important to consider your specific requirements, ensure compatibility with your truck model, and prioritize the quality of the accessories.
Exterior Accessories
Truck Caps
Tonneau Covers
Bed liners
Running boards
Grille guards
Bull bars
Fender flares
Trailer hitches
Performance Upgrades
Exhaust systems
Air intakes
Tuners and programmers
Suspension upgrades
Performance chips
Brake upgrades
Customization Services
Lift kits installation
Wheel and tire packages
Custom lighting installation
Exterior customization
Interior Accessories
Floor mats
Seat covers
Dash covers
Steering wheel covers
Console organizers
Truck bed storage solutions
Installation Services
Tonneau cover installation
Bed liner installation
Running board installation
Trailer hitch installation
Roof rack installation
Performance upgrade installation
Providing High Quality New & Used Trailers for Sale
In the realm of trailers, there exists an extensive and diverse selection of different types that are readily available in the market, catering to a vast and varied array of needs and preferences. Whether you find yourself in need of a trailer for personal or professional use, rest assured that you will undeniably be able to find a variation that not only suits your exact requirements, but aligns with them in an impeccable manner. The options are truly limitless, spanning from enclosed trailers that offer maximum protection and security, to open trailers that provide easy accessibility and versatility, and even various types that lie somewhere in between. With such a vast range of choices at our disposal, it becomes even more intriguing to delve into the world of trailers and explore some of the commonly encountered types that are constantly in high demand by both individuals and businesses alike.
Types of Trailers
Utility Trailers
Cargo Trailers
Landscape Trailers
Dump Trailers
Equipment Trailers
Car Hauler
Race Trailers
Motorcycle Trailers
UTV & ATV Trailers
These examples represent only a small selection of the various trailer options that exist. It is crucial to select the appropriate trailer based on your individual requirements and the nature of the cargo you intend to transport.
Trailer Services in the Washington DC, Northern Virginia and Purcellville, VA Area
Truck'n America presents an extensive selection of services for trailer repair and customization in the Washington DC, Northern Virginia and Purcellville, VA regions. Their offerings include inspections, repairs for various components such as couplers, jacks, tongues, axles, brakes, frames, lights, wire connectors, break switches, break batteries, floors, walls, stoneguards, vents/windows, wheels, tires, bearings, roofs, exteriors, doors, and gates. They guarantee that your trailer is in optimal condition for transportation. Truck'n America is your one-stop solution for all your trailer requirements.
Our Repair & Customization Services
Inspections (non-state)
Coupler Repairs
Jack Repair
Tongue Repair
Axle Repair
Brake Repair
Frame Repair
Light Repair
Wire Connector Repair
Break Switch Repair
Break Battery Replacement
Floor/Deck Repair
Wall Repair
Stoneguard Repair
Vent / Window Repair
Wheel Replacement
Tire Replacement
Bearing Repair
Roof Repair
Exterior Repair
Door / Gate Repair
AND MORE !!!
Directions to Our Purcellville, VA Location

Our Purcellville location of Truck'n America at 225 Shepherdstown Court, Purcellville, VA 20132 is a leader of providing excellent customer service for all your trucking accessory needs in Loudoun County. Whether you need a truck cap, ladder racks, tonneau cover, toolboxes, plowing equipment or any other parts for your vehicle, our knowledge and experience cover a range of trucking accessories. We have diverse inventory to help provide you with a full service of selecting different parts and installing them. Let us show you our new location, and we'll help you get top-notch trucking accessories at budget friendly prices.
Truck Caps and Parts Installation Services in Purcellville, VA 
Our trained professionals have been in the business for years and years, carrying their knowledge and expertise on the many installations and servicing processes with them. Even with accessories not purchased from us, our talented technicians are still able to install and service your parts and accessories. We make the process easy, as a one-stop shop for all your needs. Our confidence in our technicians is so great, we offer a Lifetime Installation Warranty.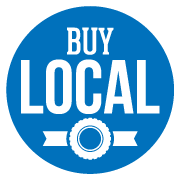 Your Local Shop for All Your Trucking Accessories in Purcellville, VA
Stay local and stop by our newest location in Purcellville today to see all the different products we have in inventory. You can also call us to speak to one of our friendly associates. No matter what location you choose, we are dedicated to improving your truck accessory buying experience.
OUR HOURS:
Monday – Friday 8am – 6pm
Saturday 8am – 4pm
Sunday Closed
Our Truck Caps in Purcellville, VA
Our Tonneau Covers in Purcellville, VA
Our Trailers in Purcellville, VA
All Truck and SUV Accessories in Purcellville, VA