Description
Meyer HomePlow – Personal Use Snow Plows – Full Hydraulic Power 7'6″
Full Hydraulic Power – Blade Length – 7'6″
For people who want full remote control of all functions, this hydraulically operated version of the HomePlow is controlled by a hydraulic power unit that directs both the up/down and right/left motion of the blade. With full power control, the driver can move the 22″ tall blade in the desired direction with just a push of a button. This popular version of the HomePlow features a 7'6″ blade length and is the most like a traditional commercial snowplow.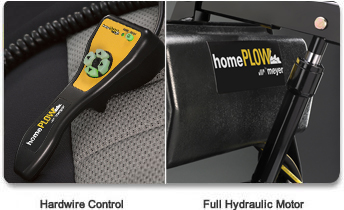 Features
Plow large areas quickly with this Meyers 26500 Hydraulic HomePlow and use this plow for lighter-duty clean up. Mount this pre-assembled plow to your receiver hitch in minutes using quick-link technology with no tools needed. Control this plow entirely from inside the comfort of your vehcile with the hydraulic plow lift. And, locate the edge of the blade when plowing with included plow markers.
Front Hitch Mount Kit NOT INCLUDED (Sold Separately).
Hydraulic Plow Lift:
Control the up/down and left/right motion of the lift from inside the vehicle with a hardwired remote control.
Integrated Wheels:
Wheels make mounting and storage more convenient.
Pre-Assembled:
No need to spend time assembling, this Homeplow comes already assembled.
Plow Markers:
Locate the edge of the blade when plowing with helpful plow markers.
Quick-Link™:
Mount to a Class 3, 2 inch hitch in minutes with no tools needed.
Steel Plow:
Plowing is a breeze with this 90″ plow that's designed out of durable steel and coated with Dura slick™ paint for better snow plowing action.
Specifications
Dimensions
Height (in.) 22 inches
Weight (lbs.) 279 lbs.
Equipment
Receiver Hitch Class 3, 2 inch front receiver hitch
Vehicle Applications SUV, light pick up, or utility vehicle
Material Steel
Dimensions
Width (in.) 90 inches
Warranty
Residential Warranty 1 Year
Equipment
Transport Wheel(s) Yes
* These Technical Specs are provided by the manufacturer at the beginning of the model year. Please be aware that the manufacturer may decide to change these specs at any given time without notice.
Video
No Fitment Found